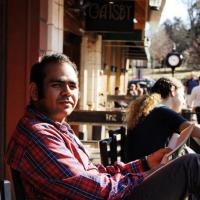 Graduate Student
Behavioral and Brain Sciences Program
I wake up feeling like an imbecile, learn throughout the day to get a little better so I can end my day with a smarter me. All in the hope of one day being smart enough to have an army of minions.
Just a bit of us: http://www.nytimes.com/2015/05/18/science/monkeys-provide-clues-to-how-tool-use-developed.html?_r=0, and a bit of me: https://www.youtube.com/watch?v=vQJAqTSKWok
This must be Teimoso!!
A bunch of researchers come by
To watch me do my nutty thing.
I guess they want to find out why
I am so good at nut cracking.
Between a rock and a hard place,
I regulate my use of force,
Evaluating case by case,
What's needed to crack in due course.
Showtime, so I want to do well,
To aid humans in solution
Of how the use of tools can tell
Of the human evolution.
This monkey must be out of whack.
Why can't I make this damn nut crack?
- Ima Ryma