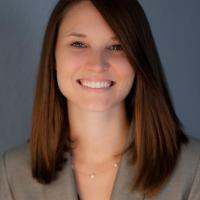 Assistant Professor of Psychology
I received my Ph.D. in 2010 from the University of South Florida. My main area of research focuses on understanding the intersection of employees' work and family lives. Specifically, I have conducted research aimed at understanding organizational initiatives to help employees managing competing life demands (i.e., flexible work arrangements); research that explores the relationship between work-family conflict and health outcomes, including eating behaviors and physiological indicators of health; research that addresses the theoretical foundations of work-family interactions; and research targeted at understanding how dual-earner couples balance work and family roles.
My secondary area of interest is in career development, with a specific focus on workplace and academic mentoring, people's idiosyncratic definitions of career success, and the consequences of career compromise.
Lab or Research Details:
Recent Publications
Eatough, E.M., Shockley, K.M., & Yu, P.* (2016). A review of ambulatory health data collection methods for employee daily diary research. Applied Psychology: An International Review, 65 (2), 322-354.
Shockley, K.M., Ureksoy, H.M., Rodopman, O.B., Poteat, L.F., & Dullaghan, T.R (2016). Re-conceptualizing subjective career success: A mixed methods study. Journal of Organizational Behavior, 37(1), 128-153.
Allen, T.D., French, K. A., Dumani, S., & Shockley, K.M. (2015). Meta-analysis of work-family conflict mean differences. Does national context matter? Journal of Vocational Behavior, 90, 90-100.
Allen, T.D., Golden, T., Shockley, K.M.  (2015). How effective is telecommuting? Assessing the status of our scientific findings. Psychological Science in the Public Interest. 16(2), 40-68.
Poteat, L.F., Shockley, K.M., & Allen, T.D. (2015). Attachment anxiety in mentoring relationships: The mediating role of commitment. Career Development International, 20(2), 119 - 132.
Shockley, K.M., & Allen, T.D. (2015). Deciding between work and family: An episodic approach. Personnel Psychology, 68(2), 235–461.
****Finalist (Top 5) for Rosabeth Moss Kanter Award for Excellence in Work-Family Research
Shockley, K.M., & Allen, T.D. (2013). Episodic work-family conflict, cardiovascular indicators, and social support: an experience sampling approach. Journal of Occupational Health Psychology, 18(3), 262-275.
****Finalist (Top 4) for Best Paper of the Year award for Journal of Occupational Health Psychology
11. Allen, T.D., Johnson, R.C., Kiburz, K., Shockley, K.M. (2013).Work-family conflict and flexible work arrangements: Deconstructing flexibility. Personnel Psychology, 66(2), 345-376.
****Awarded Best Paper of the Year award for Personnel Psychology
Interested undergradutes or potential graduate students should contact me via email to discuss research opportunities.