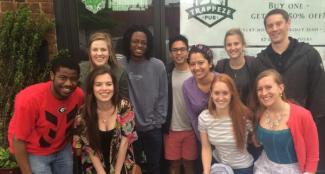 Directed by Dr. Karl Kuhnert, the LEAD Lab offers both research and applied experiences in the field of I-O Psychology for students who are interested in gaining a better understanding of their research interests and career goals.
Our lab's research centers on leadership and organizational development while striving to help undergraduate students prepare for graduate school. Employing a variety of theoretical perspectives and research methods, we have examined personality, gender, and many other variables in conjunction with leadership. We've also started new projects examining topics including leadership development, sports data, and social network analysis.
Our lab has provided students with applied experience by partnering with organizational clients. We've created and conducted a climate survey, coded qualitative data, and created a data sorting tool for qualitative data for major organizations. Our students have also had the opportunity to present their work to organizational clients.
For more information or to apply, please contact Muriel at Mgc02610@uga.edu.
Graduate Students