Welcome to the Psychology Clinic!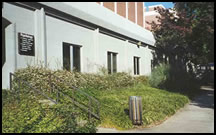 Clinic Director:  Dr. Emily Mouilso
Associate Director: Anna Jones, M.S.
Clinic Hours: Monday - Thursday, 8:00 a.m. to 8:00 p.m.
Friday, 8:00 a.m. to 5:00 p.m.
Phone: (706) 542-1173
Fax: (706) 542-8048
The Psychology Clinic is an independent community mental health facility operated by the Clinical Training Program of the Department of Psychology at The University of Georgia.
The Clinic operates with the objectives of providing specialized psychological services to the Athens area community as well as serving as a training facility for the Clinical Psychology program.
The faculty members of the Clinical Psychology Program at the University of Georgia have achieved both national and regional recognition for excellence in training, service, and research. Therapies offered at the Clinic represent state of the art, scientifically-supported treatment provided with care and concern for the individuals, couples, and families who seek our services.
The Clinic prides itself on being an open and affirming space for individuals of all backgrounds. As such, the Clinic is committed to providing quality care by culturally aware therapists sensitive to issues of diversity broadly defined, including but not limited to race, socio economic class, culture, disability, and sexual/gender identity.
Information about Ongoing Studies
Opportunities for participation in ongoing research exist through studies coordinated by Clinical Faculty members and their collaborative teams. These studies are not administered by the Psychology Clinic but may be run on its premises. For further information please click on the desired link(s) below.
Is it hard for you to talk to your child about difficult emotions?
Do you want to change your smoking habits?
Are you an older adult interested in improving your memory?
Did you play football in high school?
Need Help Finding the Clinic?
Click here to see the UGA Psychology Building on Google Maps.