Alumni Feedback
"This program changed my life" - Annamarie Olson, Class of 2017
"After more than 6 years at my current company, I finally received a promotion! The IOMP at UGA played a big role in this opportunity." - Rick Mattson, Class of 2015 (quoted prior to graduation)
"I am so thankful to you and the other professors in the program who taught us things on the applied side of I/O Psychology so that we could jump into our careers and hit the ground running with the knowledge and skills we learned in the program." - Athar Naseer, Class of 2017
Based on program evaluation and alumni follow-up surveys since the inception of the program, 100% of respondents have felt their educational experience in the IOMP was a strong value for their investment, would recommend the program to others seeking a similar degree, and would make the same decision to enroll if they could go back to when they applied to the program.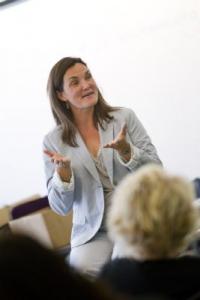 Flexibility & Pace
The UGA Professional I-O Master's Program (IOMP) is specifically designed to meet the needs of working professionals who desire to pursue graduate education while continuing to work.The program is structured with a blended format that combines distance and classroom learning in an executive-style format. Students only meet in-person five times each semester. These class sessions are delivered on weekends at UGA's Gwinnett campus on Friday afternoon from 3:30 to 7:00 and again on Saturday from 8:30 to 4:30. 
Knowledge Building
Network, Learn, and Share with the brightest in your field - topics include:  hiring and firing employees, creating organizational charts, shaping corporate culture, mergers and acquisitions, managing employee communications, settling employee disputes, creating benefits programs, navigating government regulations, dealing with legal issues such as sexual harassment and occupational safety, and setting up policy and programs for measuring performance, compensating, recognizing, and training employees. 
Instructors consist of an even balance of cutting edge academic researchers (the I/O Doctoral Program at UGA was recently ranked #2 in the country in I/O research productivity) and talented, experience practitioners from around the Atlanta area.
Career Advancement
I-O Psychology has taken on an increasingly strategic dimension in the world of business and was recently identified by the Bureau of Labor Statistics as being one of the fastest growing occupations through 2022 and as having one of the Top 10 highest paying salaries. Active understanding of HR best practices and highly developed leadership skills are prerequisites for senior HR roles. A master's degree in I-O gives you valuable experience and tremendous credibility in managing today's complex organizations - and a proven ability for thinking about opportunities and challenges in different ways.