The UGA Department of Psychology, within the Franklin College of Arts and Sciences, is a nationally recognized department with award-winning professors who are dedicated to providing the highest quality education possible to our students.
The UGA Psychology Department would like to congratulate Ms. Louise Seagraves, who was just selected to receive a 2018 Staff Award for Excellence in Service!
Louise is our hardworking Administrative Associate for the BBS program. She is well deserving of this award which recognizes consistent excellence in service to the department  and college. Louise will be formally presented with this honor next Monday at the Franklin College Staff Appreciation Reception.
The UGA Brain and Behavior Sciences program recently enjoyed an alumna talk by Dr. Krisztina Varga Jakobsen. Dr. Jakobsen is currently an Associate Professor in the Department of Psychology at James Madison University in Virginia. During the talk, Dr. Jakobsen (shown here with her Dissertation Advisor, Dr. Janet Frick) shared her experiences in transitioning to an academic position.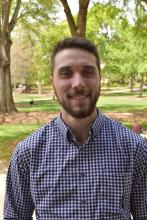 The psychology department would like to congratulate Brett Clementz and Josh Miller for recently winning awards for their research. Dr. Miller was honored with the William A. Owens Creative Research Award for his continued work in Personality disorders, and DR. Clementz was honored as our newest Distinguished Research Professor for his groundbreaking work in the mechanisms of psychosis.
Each year, the psychology department takes time to recognize those in our department who go above and beyond in their roles. Congratulations to all those who won awards this year. Keep up the good work! To view pictures from this event, click here.
Hugh Hodgson Concert Hall in the Performing Arts Center
Doors will open at 12:00pm. Graduates are asked to arrive by 12:30pm. 
Tickets must be picked up in advance at the Advising Office (2nd floor Psychology) and will be taken at the doors of Hodgson Hall.
Parking is available in the parking deck of of the Performing Arts Center (PAC).