Contact the Psychology Department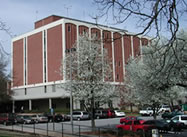 Mailing Address:
Department of Psychology
Psychology Building
University of Georgia
Athens, GA 30602-3013
Street Address for Psychology Building:
125 Baldwin Street
Fax Number: (706) 542-3275
General Information (main office):
Ph: (706) 542-2174
Undergraduate Information:
Tracey Villaveces
Ph: (706) 542-3052
Email: tvilla@uga.edu
Graduate Information:
Elizabeth Davis
Ph: (706) 542-8266
Email: gradpsyc@uga.edu
Clinical Services:
Ph: (706) 542-1173
 
Click here to see the Psychology Department on Google Maps
If traveling east on U.S. 78 (Broad Street), turn right on Thomas Street. Proceed through the first traffic light and turn right on Hooper Street. Once on Hooper Street, parking is available by turning into the third driveway on the right. The Psychology Clinic is located on the first floor of the Psychology Building.
When traveling west on Broad Street, turn left on Jackson, go to end of street, turn left on Baldwin, right on East Campus Road, and right on Hooper. To reach Broad Street from the East Athens Bypass [rt.10 loop], exit onto 78 west [toward Downtown Athens] and take a left.